Stage 1

Carcass assemble. Completed
Stage 2
27/10/2010 MDF drawer spacer and Metal drawer slides.

Completed
Stage 3

1/11/2010
securing framing to carcass. Completed
Stage

4

1/11/2010 adjustable feet. (to be modified)
Stage 5

7/11/2010 carcass prep , sanding sealer and 1st coat polish
. Completed
Stage 6 Coming Soon. Drawer construction.
I've been planing these tool cabinets now for a long time.
Please bear in mind these cabinets are middle of the road , all ply wood which will be glued and screwed, ain't no posh job like others before me ,These are aimed at what most I hope should be able to cope with skill wise , and cost has been borne in mind as well .
This is the first of two different cabinets, this one is the first ,(the other to follow as and when) This one will house my numerous hand tool I have accumulated throughout my working life.
Size wise most of you will find this one quite large , it has to house all my hand tools not just my joinery tools but also my electrical, plumbing mechanical and decoration + my general building tools .
It will be built as one unit but designed with three differing sections .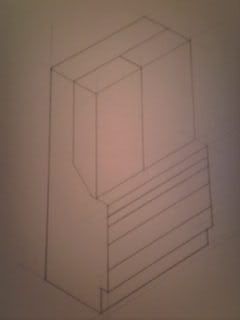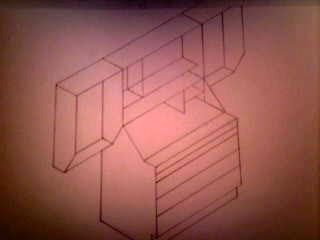 DIMENSIONS D=600mm * W=1200mm * H=err um ? I've forgotten I'll check on that and get back to you all , sorry .
BOTTOM SECTION
this will be a full width drawer of various depths yet to be decided , some will have sliding drawers/trays internally .
MIDDLE SECTION
this is to house my many battery drills + chargers.
TOP SECTION
This is solely for all my Joinery tools which is still expanding hence why I have chosen the size I have to allow for future expansion of tools that I still have planned .
The design is continually being altered as I go along , the upper section depth wise is considerable deeper that most wall hung cabinets , as mine is an all in one floor standing unit this will not cause me any concern weight wise, I still have a few thoughts/concerns about the upper doors design which I'll get solved before much longer . So hear goes .
first photo show template tacked on and router used to cut shape of side panels
cutting out toe space in main base section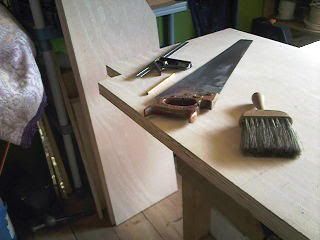 ply shelving cut and sanded up awaiting assembly
cleaned up housing and chopped square at end
both ends completed awaiting assembly
showing assembled lower half
again showing assembled upper half
back tacked on and cutting to length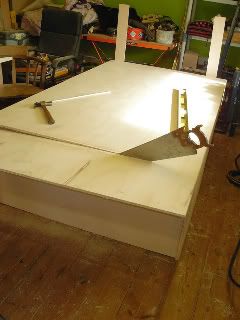 Assembled and stood up for the first time
just a little clean up in the corner where the router can't go
OK now you have seen the size of it , that's the basic shell put together , a little clean up in the corners but not a lot, now I have to source some oak timber for a framework to go on the front edge to form the framework on the carcase.
Euro oak purchase from Yandles last week nice timber , moisture meter arrive a few day later from Hong Kong had a few days play with it just to get the hang of things, So this morning decided to start rough cutting frame work to go on the front of cabinet which will be glued with biscuits as well to secure them , First re-planed face side and also one edge as well . Now it was time to use my Axminster SBW 4300 band-saw for the first time , hm (nice like slicing butter, )(love it when a plan starts to come together ) really happy with it . all face frames are now rough cut and stacked with spacer to allow some more moisture reduction .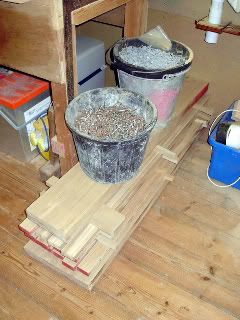 I'll leave the timber now for a few week, and start the adjustable legs section to go under plinth hc. stay tuned guys loads more to come.
Stage 2
Drawer spacers and metal drawer slides. 27/10/2010
First I cut and prepared the spacer from 25mm * 75mm MDF these were simply screwed and glued using PVA glue and 6 by 4.0 * 35mm screws to each Mdf spacer. I decide to use 600mm black metal drawer runner, primarily because I already had these, they had been bought several years previously from an auction, cheap from memory just over £5 for the lot, 600mm runners 22 in number, secondly because I wanted the drawers to pull out to there full depth, these will support I believe somewhere in the region of 100 Lbs weight per runner.
Photo showing Mdf spacers and metal drawer runner glue and being screwed.
The base unit to the tool cabinet will house three drawers
1. 150mm . Hand planes
1. 225mm Sliding tool trays (variouse)
1. 300mm Power tools
Stage 3

1/11/2010
securing framing to carcass
I have fitted a framework to the plywood edging of the carcass which is glued with biscuits they were used to give it extra holding capability to allow for the extra depth of doors still to be made and fitted later, hopefully enough to allow for the weight of the doors and tools to be hung in them.
As can be seen in the last photo in stage 1 the framing was rough cut back late last year, It shows it stacked with spacers and stored to be able to season and dry a little more over the summer months, when purchased from Yandles the moisture content was 12.5 now a recent reading shows 9.5. First job will be to re-machine it to finished sizes and remove any warping, then machine to finished, framing is
45mm * 20mm European oak , next mark out and cut all biscuit slot glue each surface place into position and cramp wipe away any surplus pva.
Here in these photos it shows framing glued and cramped to right and left side of the base carcass.
Here these photos show cramps holding edging to upper section on cabinet.
Stage 4 adjustable feet.
These were bought cheaply from e bay, they are adjustable kitchen cabinet leg made by IKEA all aluminium . I bought four extra long bolts with furniture locking nuts these work as you tighten the bolt down the spikes dig into the wood and lock the nuts.
I place one nut either side on the plywood and tighten them first till both the nuts were embedded into the plywood, with the thread protruding through the bottom of the cabinet I then hand screw the leg barrel onto the the thread till it tightened securely. Now the legs are secure thread in from the bottom end of the leg the adjustable foot and adjust to required height.
Stage 5 sanding sealer and polish.
This has taken some time to get to this stage, I have applied two coats of Mylands Sanding sealer
rub down between each coat and also today applied the first coat of Mylands pale polish, which I will leave now for a week to harden and rub down later before I apply the final polish coat later in the construction.
Next to come will be the drawer construction, but before that I need to make some alteration to my table saw to add cross cutting facilities to assist in the drawer stock preparations, this will be shown in another thread here on my website.
Here is shown to the left old tool box and new tool cabinet with edging all fitted and polish still drying with drawer runner fully extended.
On the right the upper wall section and middle section to house all the batteries and battery drills etc yet still to have the doors made and fitted .
Upper wall section which will probable house all my chisel etc , that's still to be decided .
Stage 6

Drawer construction .
Right here we are again its been nearly nine months since I last worked in the workshop back at the beginning of last October , I haven't been able to spend much time in the workshop as it had to take second place in my life, delayed by an operation on my liver cyst which failed then my wife's breast cancer scare false alarm (thank god) and then sadly the death of her mother Lilian in late may this year and the disposal of her belongings & home, now the pressure is easing off a good time to get back into the workshop and restart this thread so hear goes.
The drawer are constructed from 18mm Chinese ply, after using it's OK it did the job but it wasn't a good choice of ply the face veneer is far to thin to be able to work properly. the slightest mistake and your through the face layer . apart from a couple of dummy runs I did these are the first full set of dovetails I have cut in seventeen years since leaving the joiners shop.
Shown left all dovetails cut by hand. Middle all cut . Right middle drawer assembled and fitted.
left view into middle drawer. Middle all fitted. Right a temporary play moving planes around .
Top drawer will house all my present planes and has to find room for a few infill planes the first carcass can be seen in the above pics, middle drawer to have built in sliding trays to house many of my other tools. Bottom drawer to accommodate all my power tools.
Tomorrow make a few adjustments to one of the drawer runners one seem s to stick when not quite fully open on one end only for some strange reason, Then add an oak strip across centre of top drawer to lift end of planes up off the bottom of drawer at one end. add some temporary handle. then for the rest of the day play with a design for the saw till, next step will be (drawer fronts).
Back in the workshop today, moved the planes around a bit, then move a bit more tweaked it here and there to get a little closer added an uplift strip diagonally across base of drawer to raise the front end of the planes by doing all this it gave me enough room to add my saw till as seen below.
I have one week left before I take my wife away on a long over due holiday , so think I'll leave the Oak machining for the drawer fronts till I get back . Stay tuned.
No 2 Drawer Tool Trays.
Well shame on me it's been since late October 2010 since I did any work at all on my tool cabinet.
Now after many of my projects are beginning to get completed after my operation which took nearly a year out of my life and work schedule, Now back working at home slowly I have managed the refurbishment of two of the four
vices
for my work bench the complete refurbishment of a
Startrite Mercury bench drill
which has been completed from a heap of scrap which I bought from e bay for £50 it was a very successfully rebuild and is now a fully working variable speed bench drill for use in the dirty end of my shop for metal work only.
I also installed a brand new radial pillar drill from axminster only for woodworking I don't want the the two mixed. plus things like the assemble of a new Osborne EB3 mitre guide
As can be seen from the photos above, I had the three drawers made that was a far as I got. I intend to fit as many tool tray into the bottom two drawers only for now, at least, till my bench is made which will house all of my many hand planes and power tools then I will add more trays to the top drawer.
Last week I paid a visit to Yandles in Somerset and came away with some lovely 12mm and 6mm ply one full 12mm sheet which they cut in half and one half sheet of 6mm all fitted nicely into the back of the Zafira.
First I cut and fitted the tools tray runners, followed by the materials for the trays and there bottoms ply. then thought about the tray joint construction do I go to all the extra work of cutting dovetails simple answer no. The tool trays in my old tool box I used a half housing joint way back in 1972 there still stuck fast with no problems from any of them over the many years I use those trays, so I am using the same joint again, don't change what works.
The tool tray runners are simple a strip of 12mm ply cut 12mm deeper than the depth of the tray allowing for a 6mm thickness for the bottoms and a 6mm clearance at the top.
The top trays slide on the top edge of the ply runners and the bottom tool tray slide on a piece of oak 24mm thick both are only screw to the main drawers.
Next came the cutting of sides, ends and bottoms My new
Osborne mitre guide
is going to worth it's weight in gold, it has proved to be a superb cross cut while cutting the shoulder as seen on the left. as shown in the middle on the band saw cutting the face of the joint. On the one tray glued and pined with my air gun, bottom as yet not fitted I need to clean up all four corner joint first then it a glue and screw for the bottoms.
Here as shown below all four tool tray frames sat in the box on there runner awaiting to be completed , but these last few days phew it to hot after 11ish in the morning to stay in the workshop.
Today 28/07/2012
The tools tray are now assembled, it's a mixture of the air nailer, pinned glue and screws to all of them.
All the partitions are pinned only no glue or screws, simply so if at a later you want to change the use of a particular draw the partition can easily removed. The drawers are now drying from just applied first coat of sealer sander, (My-fords). tomorrow final sanding and then apply a coat or two of light stain. . more to come .
Today 02 /08/2012
All the tool trays for drawer No 2 have now been completed and polished, tray no 4 I left blank at at this stage, seeing I still have two more drawers still to fit with various sized tool tray I'm bound to miss something out so though if I do at least I can fall back on this tray.
Now showing a few of my tools in there new permanent homes , plumbing tray, mechanical tray and electrical tray. no 4 at the moment is a temporary home just for miscellaneous items.
Next week
I 'll make a start on drawer No 3 bottom drawer, tool trays. stay tuned.
Drawer three
. Ooops a bit late . 8/5/2014.
Much the same as above really, but I must say this is a temporary home for what is seen in the sliding trays in this drawer. I have now plans for two more tool boxes as a priority which will form a part of this tool box (stay tuned on that one could be interesting) all this before the move takes place, as I am now shutting down theworkshop I'm busy trying to make ready for our move hopefully by early next spring, I'm trying desperately to crunch down on storage space move everything from A- B -C back and forth from box to box till i make space for all my tools eventually, this drawer will eventually be used for most of my building tools, one of the reason why i have not put any divisions in these three sliding drawers as yet, once the building tools are in place if divisions are needed then they will be fitted, most of the time these tools will be in deep storage.
In storage at the moment miscellaneous items in the base section of the drawer some of the larger items tools like hand saws, the larger turning chisels to long to go across the drawer extra long tape measures, a file rack holder spare electric plugs and some large rasps.
First layer sliding drawer some of the smaller files, on the right a ll of my tenon saws two Henry Disstons , and two Veritas Dovetail saws, one more saw not there yet is still away at the saw doctors being re-cut and sharpened.
Layer three. on the left all my larger files. On the right most of my lathe turning tools .
As the other two newly planed tool boxes come into service the top drawer of this base unit will become empty
of all the planes
and used for something else. Stay tuned.