Hi all
This is my workshop ,which I built with my son Ian, a lifelong friend Pip, and my future son in law Edwin a Dutchman who all helped me get it all erected in one day with tarpaulin covering the roof . My daughter Louise, Wife Pam , Annie Pipes wife and little Ryan my Grandson all helped with the bacon sandwiches and kept the beer coming all day long .
looking down to the decking area where we spend the summer months with security light on these also double up when were there in the evenings, nice place to barbecue and just general hang out,sun trap,lovely, still got to run an extra power line for the fridge for those lovely cool beers on the long summer days till you gentle nod off in the sun.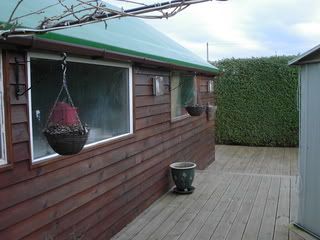 Showing water butts that catch all our rain for those long summer days when my plants need a nice cool drink and an over flow when full returning all excess water to the ground soak away . late September with the wisteria in full leaf it's beginning to get well established now in it third year, with hanging basket of fuchsia gone past there best.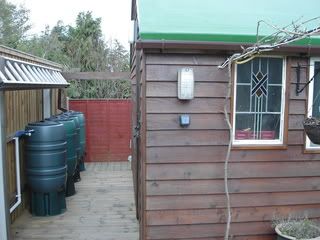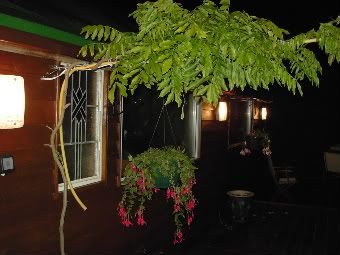 Just finished the roof in green fibreglass and all the exterior feather edge boarding coated with thee coat of natural pine Sadolin. I located it as far from any neighbours as i could so it's not close enough to cause a nuisance with the noise from machines.