Made ooh , well back in the early seventies when I first went into the joiners shop at Portland Naval Base clearly seen to be now overflowing with so many tools, so many in fact I've had to place others elsewhere in the shop to make room to close the lid.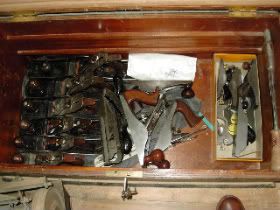 It has three sliding drawers which has so many tools jammed into them that they no longer slide any longer , it was designed with a lower section to house my many planes, The upper drawers two on a top level that is supposed to slide over the middle section single drawer. Upper left showing all my numerous Marple's chisel which consist of sets of firmer , bevel edge , bevel edged paring chisel , mortise chisel, and gouges.
This photo shows the lower section which houses all of my Stanley planes ranging down from no 7 , 6, 5.5, 5, 4.5 4, & No3 + a 10.5 rebate plane, no 71 , no 55, no 112, no93 shoulder plane, no 130 and two No 60 .
LH photo one of the upper drawers with mortise and marking gauges, pliers , pincher's and calipers plus many other tools. As can be seen in center photo from this top drawer full to overflowing with all my Marple's chisel sets of mortise , paring, bevel edged, firmer and a small set of gouges . RH photo Middle drawer again full with other tools.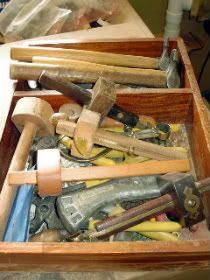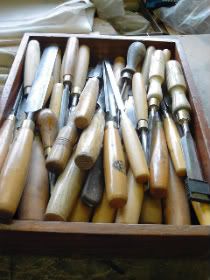 Finally last photo showing saws hanging up for now .
As your now probably well aware I have no space left in
My old tool chest
.
I simple have out grown it , hence I have been designing
My new tool cabinet
please keep visiting my blog as I am to shortly do a post here on the construction I have in mind and do feel free to leave any comments good or bad .hc